My name is Sophie and I am probably one of the biggest Friends fans that exists… and I'm not even sorry. Imagine the Janice style "Oh. My God." I bellowed when I first saw the Friends collection. So how about I share my joy and take you through the collection with a little Friends Trivia along the way… Answers at the bottom to see how much of a fan you really are!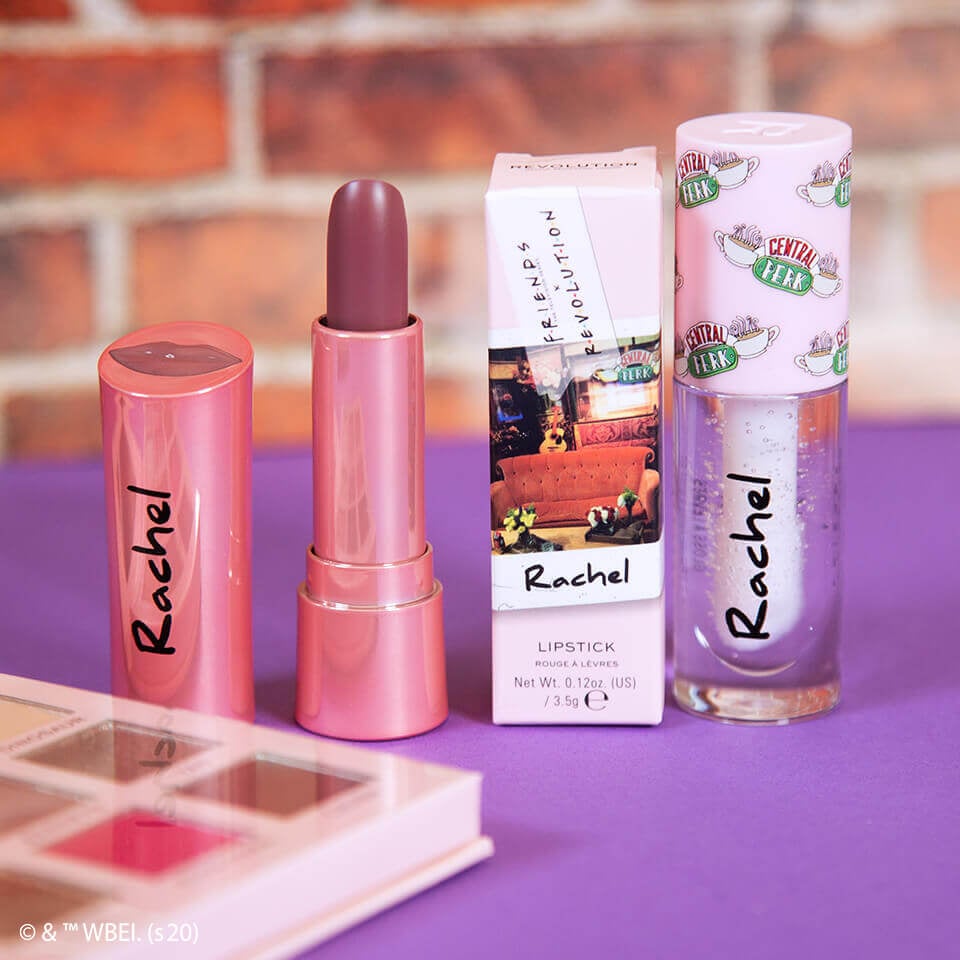 Rachel Collection
She turned her life around the moment she started working at Central Perk, and it's the place that hosted many of the Friends get togethers… so we had to of course play honour to the iconic location in Rachel's products! With a gorgeous neutrals 9 pan eye shadow palette, clear high-shine lip gloss and a soft mauve lipstick, you have everything you need to create your Rachel inspired look! Or, if you want to go "on a break" (oh we went there!) with Rachel's lippie, why not check out the super cute Ross lip gloss! Plus, carry them around in the super stylish black cosmetics bag… we know Rachel would love it.
Is Rachel your favourite Character? Why not see how well you do at these questions? Scroll down to the bottom of this article for the answers!
1. What are Rachel's sisters' names?
2. Name the occupation of the male lover in the trashy romance novel that Joey found in Rachel's room?
3. Where did Rachel go to on the honeymoon that Ross and Emily were supposed to go to?
4. Who did Rachel leave at the altar?
5. Who told Rachel that Ross slept with another woman?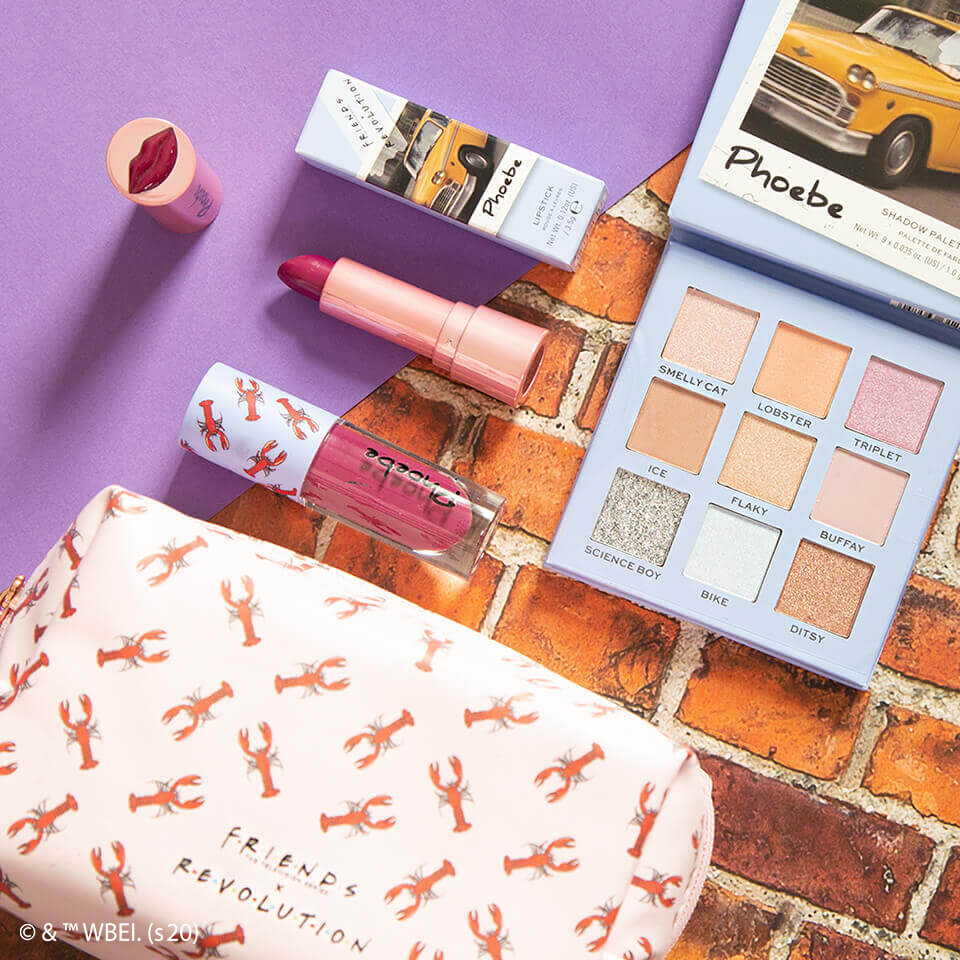 Phoebe Collection
Phoebe and the infamous lobster phrase go hand in hand, plus the erratic driving of her grandmothers taxi! So, we've taken that as inspiration in all of the Phoebe inspired collection. Starting with the Revolution x Friends Phoebe Palette. This beauty features an array of 9 neutral shades to help you create Phoebe's 90's inspired makeup look. Plus, for those days you may be bumping into your old Scientist love flame or adopting your Princess Consuela persona, add a pop of coral or some shimmer to take your look to a "Oh actually, no, I look good." level.
Complete your look with your lip product of choice! We have a matching Lipstick which offers a deep pink highly pigmented sweep of colour, or the Phoebe lip gloss which is a high shine deep wine colour!
Love accessories? Check out the Phoebe inspired super cute pink makeup bag with a lobster design!
Is Phoebe your favourite Character? Why not see how well you do at these questions? Scroll down to the bottom of this article for the answers!
6. What was Phoebe referring to when she told Joey: "You keep the old ones in the back? That's so ageist"?
7. Phoebe hates what furniture store?
8. Phoebe cuts Monica's hair to resemble the style of what celebrity?
9. How did Phoebe violate Section 12, Paragraph 7 of the criminal code?
10. What is the name of the stripper at Phoebe's bachelorette party?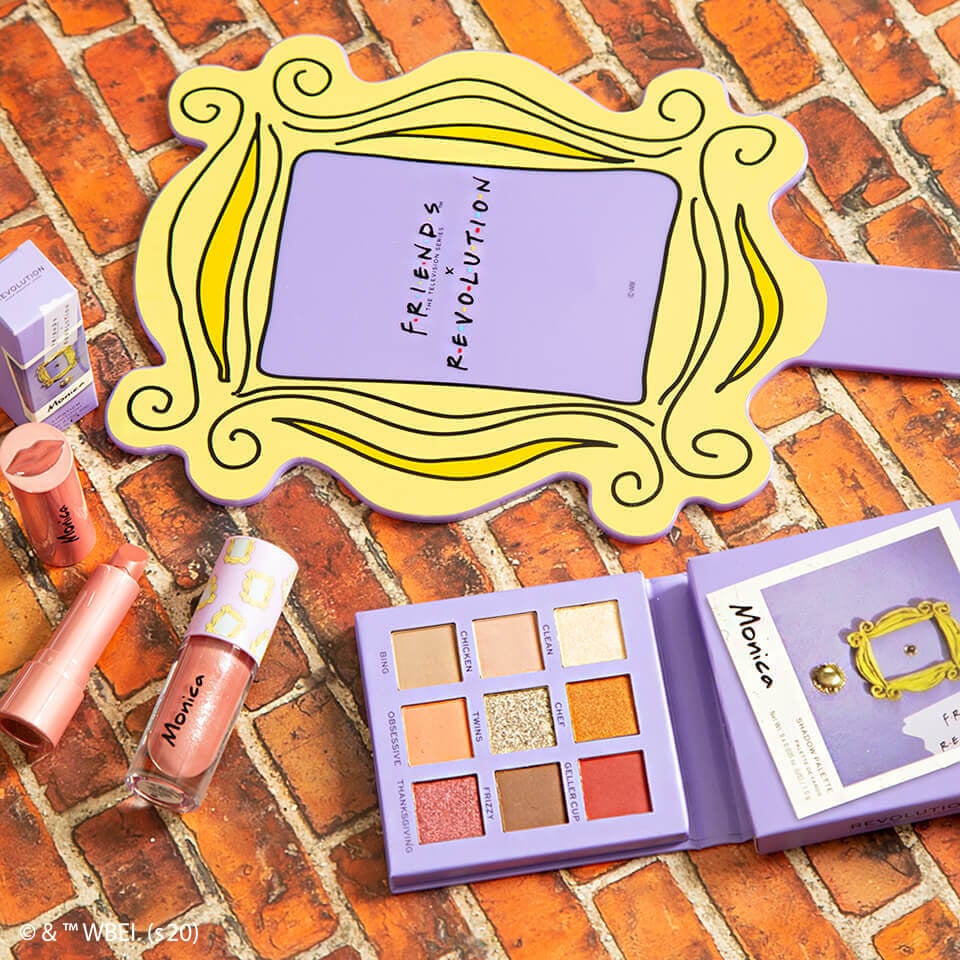 Monica Collection
Monica is always the host, so we really used her apartment at the inspo for her products! With a purple design, and iconic frame packaging design, check out the gorgeous 9 pan palette, a lipstick to complete your look and a gorgeous high shine lip gloss! Plus, for any Friends fan, there's the absolutely incredible door frame mirror! It's hand-held, you can see your whole face and it's just EPIC.
Is Monica your favourite Character? Why not see how well you do at these questions? Scroll down to the bottom of this article for the answers!
11. Fill in the blank quote: Monica: "I don't want to have to wear flame-retardant _____."
12. Where was Monica's first head chef job?
13. What was left in Chandler's hotel room, that led to Joey finding out about Chandler and Monica's relationship?
14. For Monica's first Thanksgiving she cooks for the gang, how many kinds of potatoes did she make?
15. Why did Monica get stuck with the lasagnas she made for Aunt Sylvia?
More from the Collection!
We haven't stopped at character palettes, complete your Friends x Revolution collection with the Flawless Limitless Palettes, with an incredible 27 eye poppin' shades, a super cute trio of scrunchies set, and three more lip glosses- Ross, Chandler and Joey!
Know more about Friends? Complete our Trivia quiz and check out the answers at the bottom of this post!
16. Joey gets a big acting break playing the "butt double" for which actor?
17. How does Ross describe Rachel's English trifle to Joey?
18. What is a "Moist Maker"?
19. Benjamin Hobart asked Ross to spell what made-up dinosaur?
20. Ross got a pet what that was named Marcel?
21. Who is Rosita?
1. What are Rachel's sisters' names? Jill & Amy

2. Name the occupation of the male lover in the trashy romance novel that Joey found in Rachel's room? Chimney Sweep

3. Where did Rachel go to on the honeymoon that Ross and Emily were supposed to go to? Athens, Greece

4. Who did Rachel leave at the altar? Barry Farber

5. Who told Rachel that Ross slept with another woman? Gunther

6. What was Phoebe referring to when she told Joey: "You keep the old ones in the back? That's so ageist"? Christmas trees

7. Phoebe hates what furniture store? Pottery Barn

8. Phoebe cuts Monica's hair to resemble the style of what celebrity? Dudley Moore

9. How did Phoebe violate Section 12, Paragraph 7 of the criminal code? Having sex in the park

9. How did Phoebe violate Section 12, Paragraph 7 of the criminal code? Having sex in the park

10. What is the name of the stripper at Phoebe's bachelorette party? Officer Goodbody

11. Fill in the blank quote: Monica: "I don't want to have to wear flame-retardant _____." Boobs

12. Where was Monica's first head chef job? Allesandro's

13. What was left in Chandler's hotel room, that led to Joey finding out about Chandler and Monica's relationship? Eyelash curler

14. For Monica's first Thanksgiving she cooks for the gang, how many kinds of potatoes did she make? Three

15. Why did Monica get stuck with the lasagnas she made for Aunt Sylvia? They were supposed to be vegetarian

16. Joey gets a big acting break playing the "butt double" for which actor? Al Pacino

17. How does Ross describe Rachel's English trifle to Joey? "It tastes like feet"

18. What is a "Moist Maker"? A piece of gravy-soaked bread (the crucial ingredient in Ross's leftover Thanksgiving sandwich)

19. Benjamin Hobart asked Ross to spell what made-up dinosaur? Boscodictiasaur

20. Ross got a pet what that was named Marcel? Monkey

21. Who is Rosita? Joey's original Barcalounger (recliner)
back to blog