You asked. We listened… and oh my glow, have we delivered! Get ready to shimmer from head to toe with the very first Revolution face and body collection to meet all your glowy skin needs with Revolution GLOW.
We may be on lockdown, but we can all bring that sunshine inside with the brand-new Revolution Glow Collection. For me, living in a flat with no garden, this is just what I need! This collection features a full range of body highlighters, bronzers and applicators to give you the ultimate glow. Let me give you the lowdown…
For the body…
We have not one, but two incredible options to get that body GLOWING! My personal fave is the Revolution Molten Body Glow. WOW! Not only does it feel super indulgent (we all need some TLC right now, aye?!) but you can use it to glide onto the collarbones, shoulders, arms and legs for the most healthy-looking glow! Plus, a top tip that I learnt from our amazing product development team, is that you can even mix into your fave foundation or tap on the cheekbones for a dewy highlighter.
If you fancy mixing it up, we also have the most incredible smelling Revolution Face and Body Radiance Shimmer Oil. It's like Summer in a bottle! Simply shake it up, apply and glow!
For the Face…
I am OBSESSED with Bronzer. Especially at the moment, a quick lick of bronzer and I just feel that little bit more awake, and like my usual sprightly self (I know… it really is the small things!). So, I'm sure you can imagine how excited I was to see the perfect large matte bronzer within this collection. Because of the epic size, you can absolutely use it for the face and body, it just blends beautifully wherever you apply! It's available in 6 shades; Light, Medium, Medium Dark, Dark, Deep and Deep Dark, with an added coconut and pineapple fragrance - it smells like summer!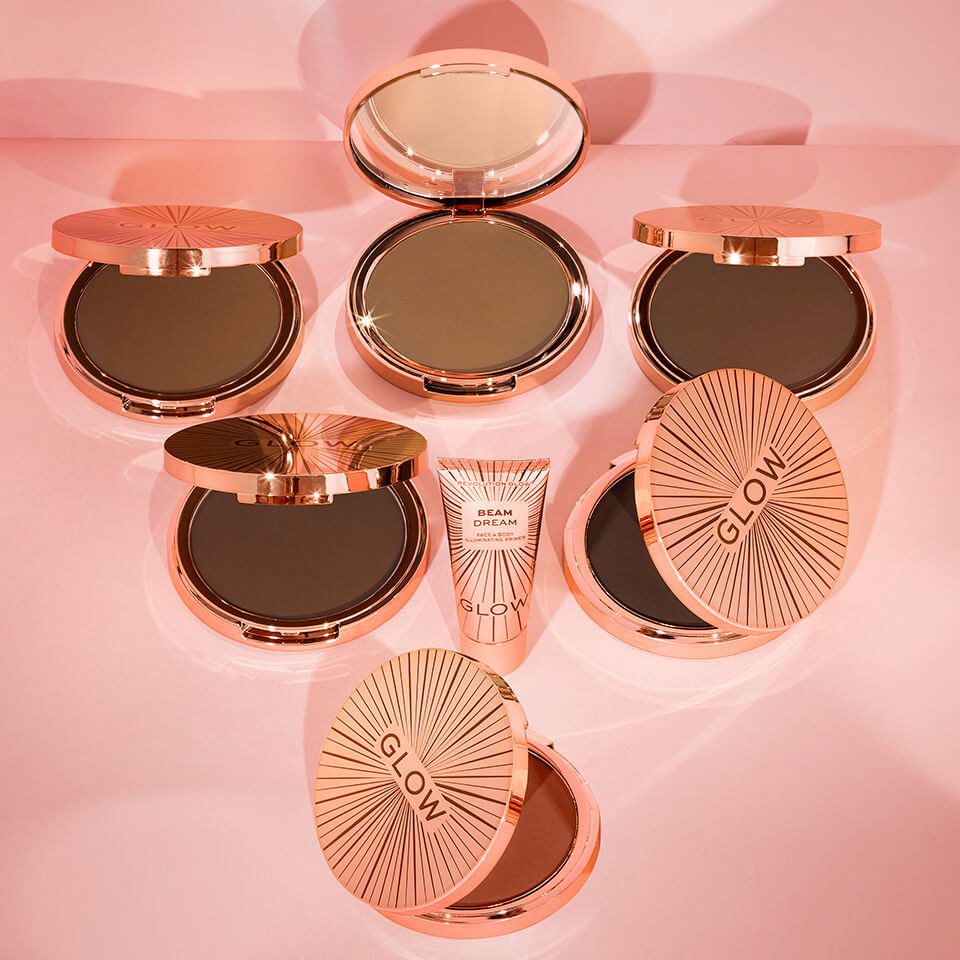 Plus, the extras…
You know what we are like now here at Revolution, and if we are going to launch a whole new collection, we think of ALLLLL the details. So, as well as the face and body products, we've also added a Summer-inspired eyeshadow palette, a gorgeous glowy primer, plus some super soft body brush applicators. I think it's fair to say we are all going to be shimmering from alllllll over… and I'm totally fine with that!
What's your favourite product? We'd love to hear! And in the meantime, don't forget YOU are the Revolution.
Sophie from Team Revolution x
back to blog