Unless you've been avoiding reading anything online for the last few years (and honestly who can blame you, it's been a rough ride) you've probably heard of K-Beauty.
SHOP NOW

K-Beauty is the name given to beauty products made in Korea. Just how like bread differs slightly in each country in the way it's made (but in the end it's still carby goodness), cosmetics made in particular countries are known for their different styles. The French are known for their chic and classic pharma-like skincare, Italians for their beautiful pigments and packaging, Germany for their excellence in pencils (seriously nobody does it better) and Korea for the newest and best textures and ingredients.
Always at the cutting-edge end of skincare innovation, Korean labs and brands use new and unique extracts, often taken from native botanical ingredients, such as Cica, Green Tea, and Ginseng. Not only that, but they are often the first to champion and make popular some of our fave synthetic ingredients like Ascorbyl Glucoside (stabilised vitamin C), Niacinamide and Hyaluronic Acid.
They are certainly at the forefront when it comes to ingredients, but they also produce new and interesting textures that leave our Cold Creams for dust. They are masters of light, hydrating formulas, favoured due to their hotter and more humid climate, as well as a preference for a routine with many steps - products need to be able to be layered! Gel creams would not exist if it were not for Korean labs - now a texture favoured by many with oilier blemish-prone skin for when they still need that hit of moisture. Essences, transforming cleansers, sheet masks, milky tonics - none of these would be lighting up our shelfies without Korean lab wizardry conjuring up their innovative magic.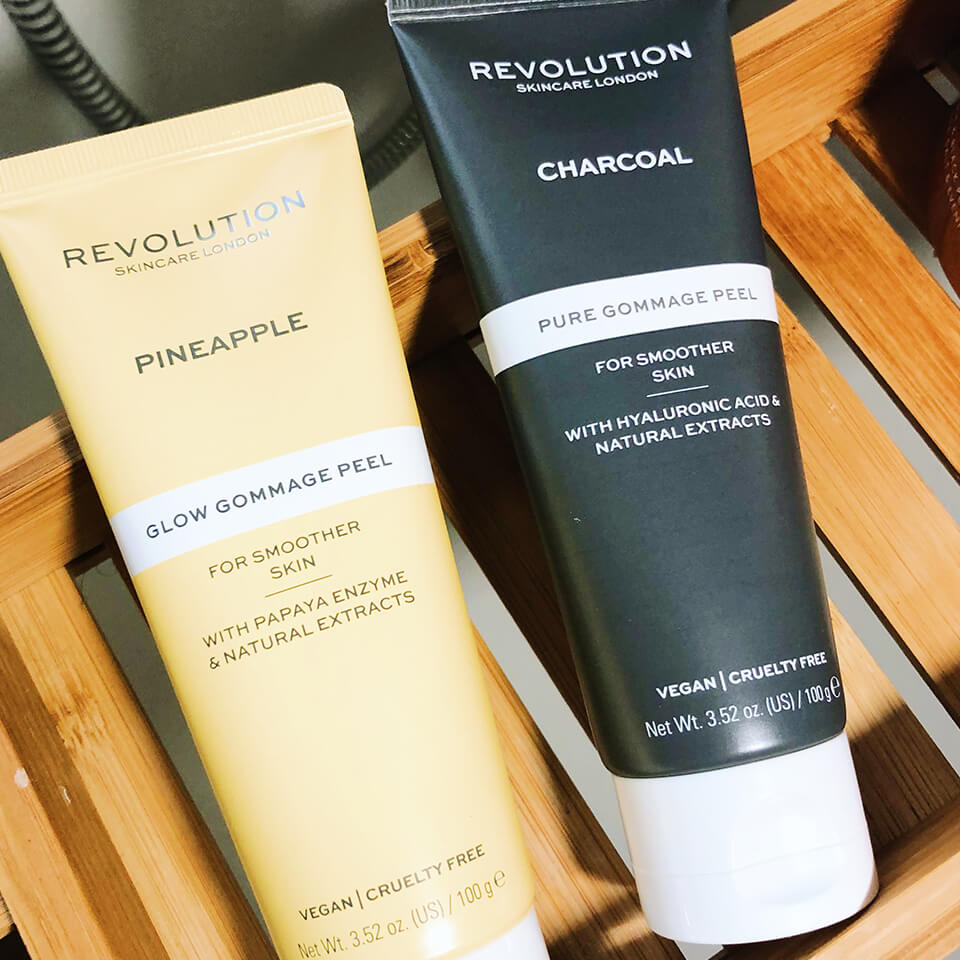 So, what's next? Meet the gommage peel. Equally visually satisfying and good for the skin, these are the newest wave of exfoliation products. Designed to be gentler than a physical scrub, but still have the efficacy of chemical exfoliants, gommage peels ball up when the product comes into contact with the oils on the skin and friction is applied. This physical action helps to buff away dead skin cells leaving your skin smooth and bright, without any rough tearing or AHAs (if your skin doesn't agree with them). The formulation itself can contain fruit enzymes or absorbent particles to help aid the exfoliation, and leave skin feeling clean, fresh and soft. We decided to create two gommage peels, sourcing direct from a top Korean lab; one contains pineapple extract containing enzymes and vitamins to help give skin a fresh glow, and the other charcoal, to help clear out those pores gently.
Don't be shocked that you're losing the top layer of your skin like a reptile when using it – it's mostly the product itself that peels off, but will also contain skin cells, oil and dirt (you can usually see this if it looks a little darker or dirtier when you are removing it). They're great for all skin types, particular more sensitive skin types that don't get on well with chemical or harsher physical scrubs.
What's next for Korean skincare? Watch this space to find out…
Our fave Revolution Skincare Korean inspired products:
Revolution Skincare Hyaluronic Tonic
SHOP NOW
Revolution Skincare Gold Eye Hydrogel Hydrating Eye Patches with Colloidal Gold
SHOP NOW
Revolution Skincare Berry Lip Sleeping Mask
SHOP NOW
Revolution Skincare Rose Quartz Roller
SHOP NOW
Revolution Skincare Hydration Boost Moisture Gel with Watermelon
SHOP NOW
Revolution Skincare Melting Gel Cleanser
SHOP NOW
Liberty from Team Revolution x
back to blog