We love summer and the joy that it brings – after work ice creams in the park, the smell of sun cream, sandy sandwiches on the beach, and of course, the out-of-nowhere torrential downpour #britishsummertime.
Sometimes though all that heat, sweat and yes, the latest Y2K inspired outfits may look good but sometimes they can be a recipe for…backne, buttne, and elbowne? (Is that a thing? Probably.) Whilst skin texture, blemishes and spots are perfectly normal and will never stop you from looking cute, sometimes they can be uncomfortable and stop you from feeling your best.
So why do body acne and blemishes tend to get worse in the summer? Well tight-fitting clothes, sweat and heat are all perfect conditions for blemish formation who love warm, damp environments. Throw in chafing which can tear the skin barrier and you've got a perfect storm for bacteria to grow.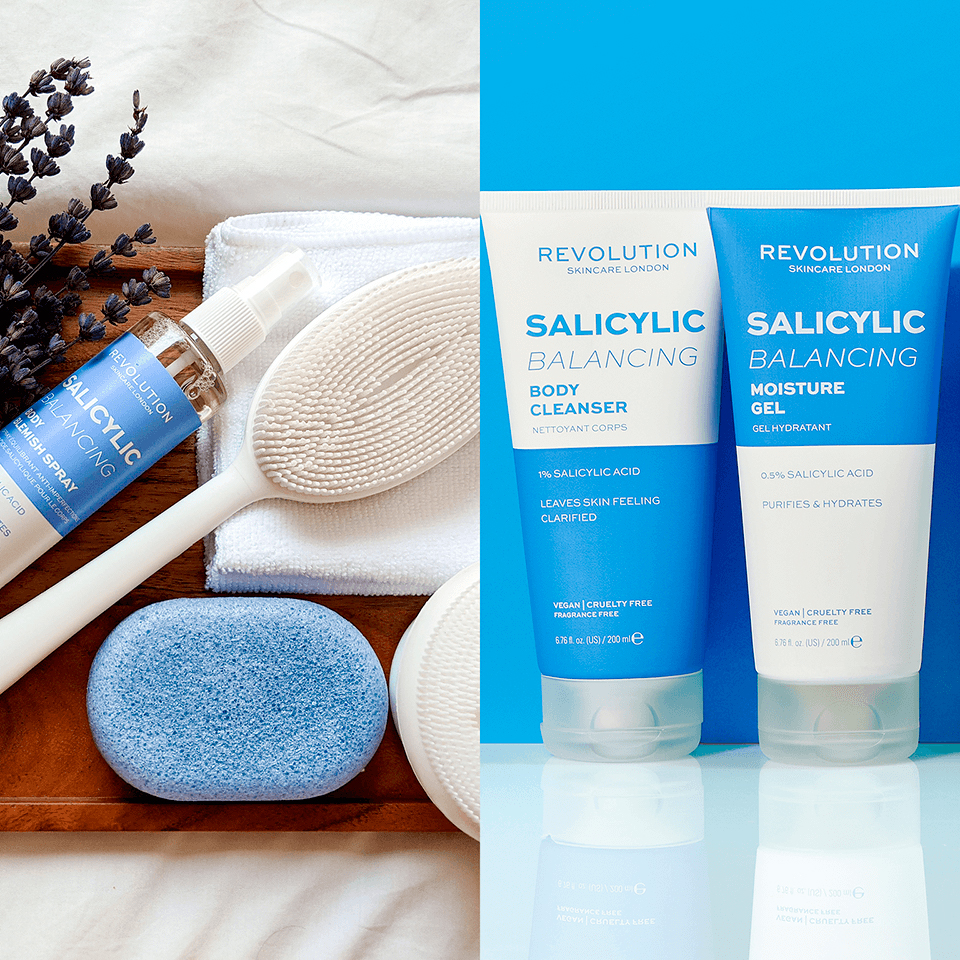 So what can you do to reduce their appearance if they're bothering you?
- Wear loose cotton clothes when possible, as this will help prevent friction that can irritate and tear the skin.
- If you work out, change out of damp, sweaty clothes as soon as you can.
- Exfoliate! This will help prevent any blocked pores and follicles that can lead to congestion and breakouts. We love our Body Brush for those hard to reach places on your back, and the Body Exfoliator for legs and arms. The Konjac Sponge is perfect for our sensitive skin, honeys!
- Our creamy 1% Salicylic Acid Body Cleanser works perfectly with our accessories to keep congestion at bay, whilst gently cleansing without stripping the skin.
- Post-shower, our 0.5% Salicylic Balancing Gel Moisturiser will help to lock moisture into skin with Glycerin and Betaine for soft and smooth skin.
- For when you're out and about, the Body Blemish Spray helps to refresh and prevent congestion on to go.
NB: as with all BHA containing products, please remember to wear sunscreen after use. Sunscreen should be reapplied regularly.
We hope these tips help you to feel comfortable and enjoy the summer to your absolute best!
Maria from Team Revolution x