Whether you're self-isolating, social distancing, or being as cautious as you can, we know that makeup and skincare can help to bring joy for a lot of people, even in tough times like these.
For many, myself included, makeup and beauty routines are a moment of self-care. Each morning when I sit down to do my makeup, I feel relaxed, refreshed, and like I'm taking time for me. So even though I only really have my cats to impress for the next few weeks, I'm making an effort to do my makeup at least every other day, and I know many of Team Revolution are too. If you're doing the same, below are our favourite products we're pampering with at home, and if you're taking a break from makeup, we'll be here for you when this is all over.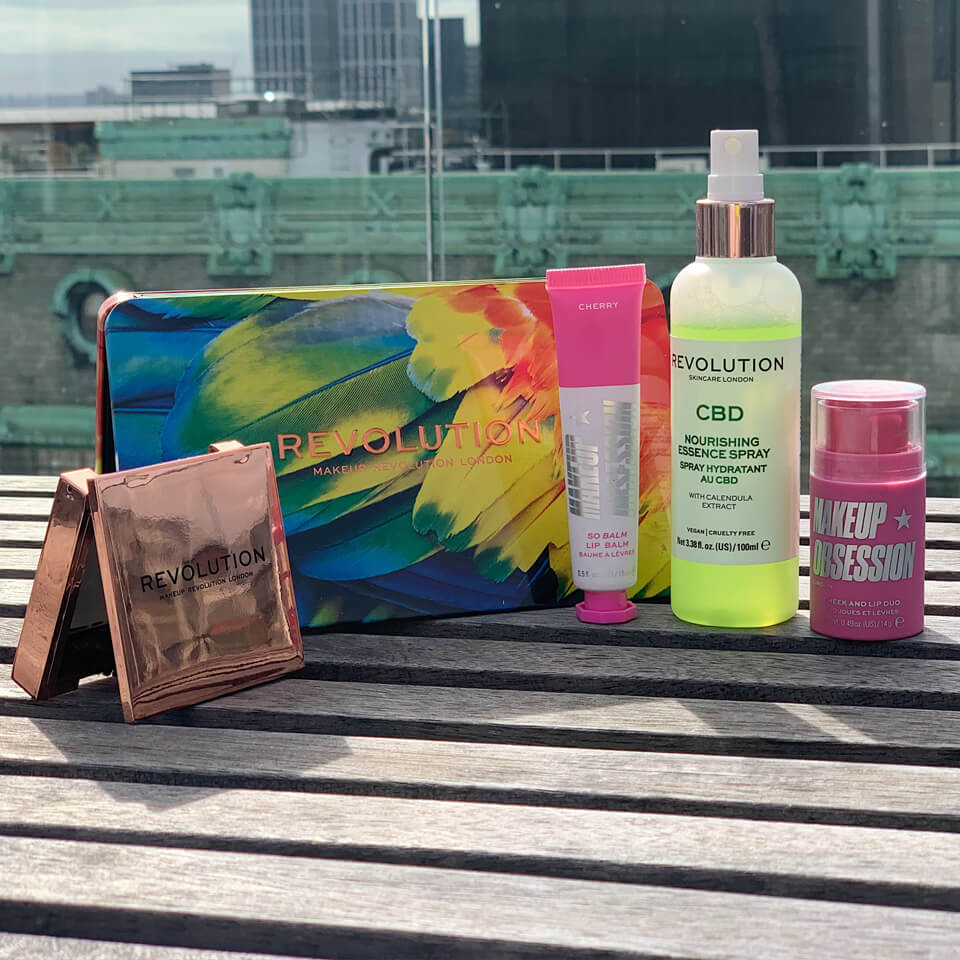 Charlie – Content Editor for Revolution Skincare
FOREVER FLAWLESS BIRDS OF PARADISE – just because I'm staying inside all day with only my parents and my cats for company, doesn't mean I'm going to stop doing extremely colourful eyeshadow
REVOLUTION SOAP STYLER – my absolute go to for bushing up my skinny brows
CBD ESSENCE SPRAY – Perfect for refreshing throughout the day, or spraying at parents to keep them away when I'm on a conference call
MAKEUP OBSESSION SO BALM LIP BALM IN CHERRY – self isolation is no excuse for dry lips, and the subtle tint of colour helps to look a little more human on those days I can't be bothered for much else
MAKEUP OBSESSION CHEEK AND LIP DUO – last minute video call? I'll be swiping on this cheek and lip duo in an attempt to look more presentable whilst in my pyjamas
Carrie – Global Content Director
Jazz – Global Social Content Manager
Francesca – Global Social Coordinator
SUPERFRUIT ESSENCE SPRAY- Whether my skin's feeling dull or I just need a quick pick-me-up, this never fails to deliver – plus it smells super sweet!
GOOD VIBES CUTICLE OIL - This is perfect for when my hands need a little TLC – and applying it is the perfect excuse for a moment of calm.
CONCEAL & DEFINE INFINITE LONGWEAR CONCEALER - I don't wear much skin makeup when I'm at home working, so this concealer is perfect to even out my complexion and is super low-maintenance because it lasts up to 16 hours – so I can pop it on in the morning and then forget about it!
BIG LASH WATERPROOF MASCARA - My face feels naked without mascara on, and Big Lash Waterproof is perfect at providing volume is one-sweep!
REVOLUTION X PATRICIA BRIGHT FACE PALETTE IN MOONLIGHT GLOW - Ideal for a last-minute video call, when you need to brighten up – this compact has contour, highlight, and blush, so I can freshen up fast!
With so much uncertainty at the moment, Team Revolution would love to know what YOU would like to see from us right now - inspirational looks, routines you can do at home, funnies, memes? Let us know what you want to see on our socials @makeuprevolution
Charlie from Team Revolution x
back to blog