In a world where skincare routines seem to be getting more and more complicated by the day, 'double cleansing' can seem like a chore. But what is double cleansing? Is it really worth adding *another* step to your skincare routine? And how do you double cleanse for your skin type?
Keep reading for all the answers you need to become a double cleansing pro...
What is double cleansing?

It's as simple as it sounds! Double cleansing involves using two different types of cleansers to thoroughly remove all traces of makeup, SPF, pollution, oil, dirt and grime (which is difficult for just one cleanser to do well; it needs a little support from another cleanser). Usually, the first cleanser should be an oil-based makeup remover and the second a water-based cleanser.
What are the benefits of double cleansing?
Essentially, double cleansing ensures that your skin is perfectly clean and prepped for all those fabulous skincare products you'll be applying after. It also helps to revitalise dull skin and allow other skincare products to penetrate more effectively. Trust us, you'll see a huge difference in your skin health when you start double-cleansing. So let's get to it…
The first cleanse

The first step in your double cleansing routine is designed to remove all traces of oil-based impurities, makeup, SPF, sebum and even pollution from the skin. Ultimately, it helps to prep skin for your second cleanse. Even if you haven't been wearing makeup in the day, it's still important to do this step as you'll most likely have SPF, sebum and pollution on the skin. For your first cleanse, opt for an oil-based product (yep, even if your skin is oily) which will work almost like a magnet on the skin.
The second cleanse
Now that your first cleanse has done most of the hard work, your second cleanser can really work its way into the skin. Your second cleanse helps to remove dirt, grime, excess oil and trace amounts of makeup from the skin after using a makeup remover (plus any leftover residue from your makeup remover).
Should I double cleanse in the morning?
In the morning, your skin will just have product from the night before along with a little debris and oil that built overnight (the double cleanse the night before will have put your skin in a good place). So essentially, double cleansing in the morning isn't necessary. But if you're into it, do your thing!
How do I double cleanse for my skin type?
To make things easier for you, we've put together some double cleansing combos based on your skin type. Thank us later…
Double Cleansing for Oily Skin

PSA: It's okay to use oils on oily skin. In fact, it's kinda magic. Why? Oil-based products are great at attracting oils on the skin, meaning all that excess sebum and oil will be taken away with your makeup. So for your first cleanse, go for the Makeup Remover Cleansing Oil. This luxe oil-based formula is enriched with a blend of jojoba oil, olive oil and vitamin E to gently break down stubborn face and eye makeup without the need for rubbing. Follow up with the Mattifying Pink Clay Cleanser - this innovative mud-to-foam cleanser is formulated with oil-absorbing Pink Clay and hydrating Glycerin to leave the skin clean and balanced.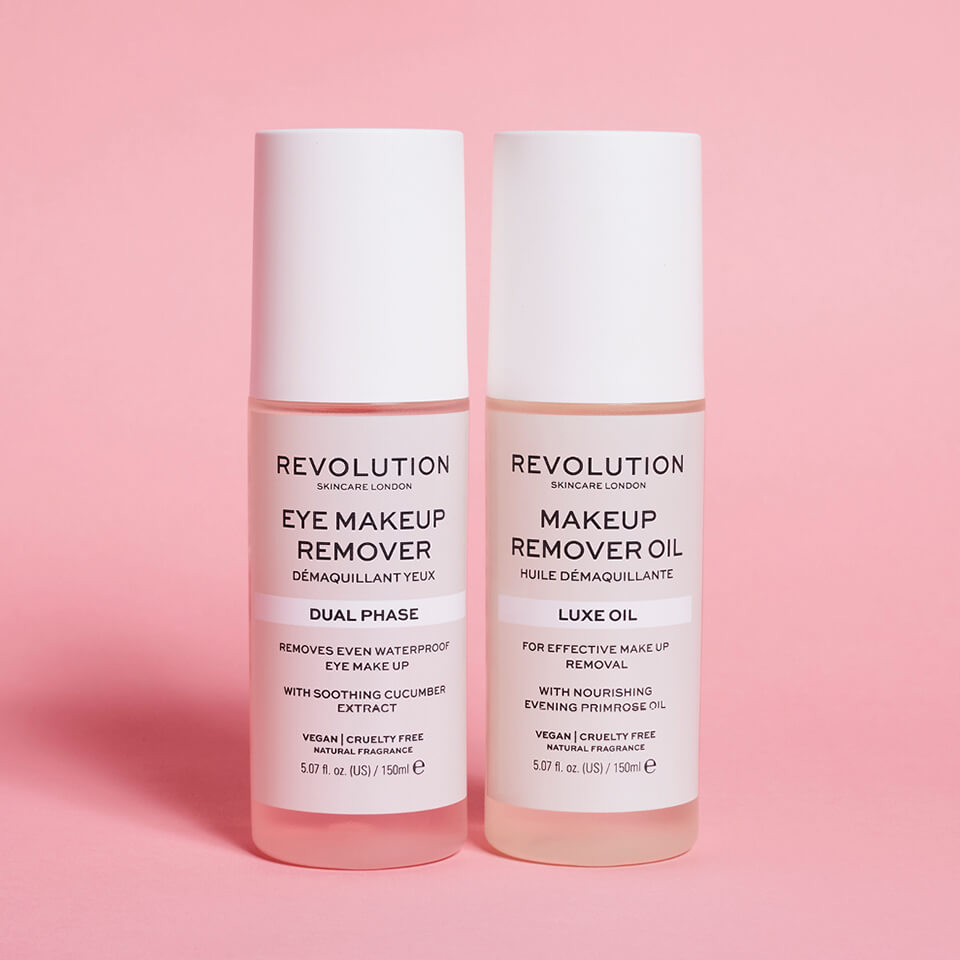 Double Cleansing for Sensitive Skin

If your skin is sensitive, you'll want to opt for products with calming ingredients that effortlessly remove makeup with minimal rubbing. For your first cleanse, go for the CBD Cleansing Oil. Perfect for everyday makeup removal, this oil-based formula makes light work of heavy makeup. Formulated with Cannabis Sativa Seed Oil and Cannabidiol (the non-psycho-active part of a hemp plant) to help nourish, calm and soothe irritated skin types whilst boosting moisture levels. Follow up with the CBD Soft Foam Cleanser. This lightweight, water-based cleanser leaves the skin perfectly clean and calm.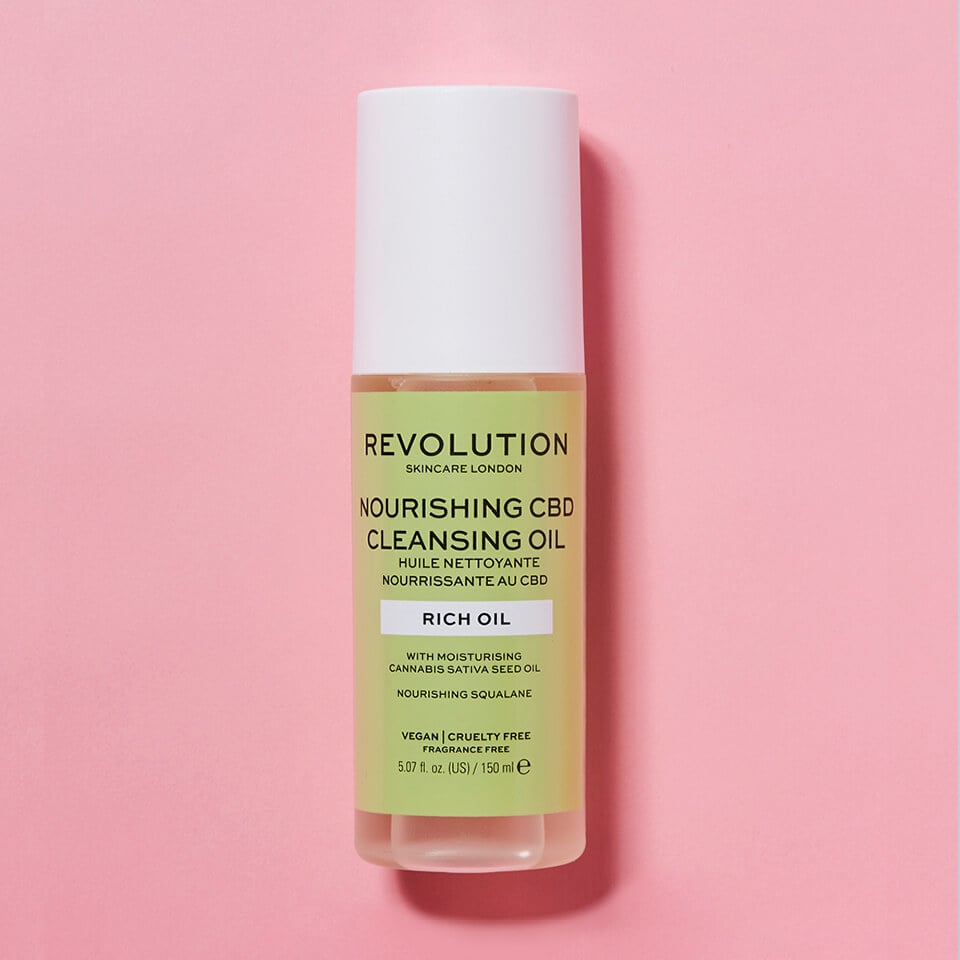 Double Cleansing for Dry Skin

For dry skin, you'll want to opt for super nourishing ingredients that help to boost moisture levels. To remove makeup, you'll love the Overnight Nourishing Cleansing Oil. Or if you're feeling lazy, try the Makeup Removal Spray - just spray on and wipe off with a reusable cotton pad or cloth! Next, follow up with the Hydration Boost Cleanser - this soft, creamy cleanser is perfect for people with dry skin thanks to its hydrating combination of Glycerin and Sodium Hyaluronate help to draw moisture into the skin to keep it hydrated.
Double Cleansing for Blemish-Prone Skin

Prone to breakouts? Remove all traces of makeup with your favourite oil-based formula which will work magic on oily, prone skin (see also: oily skin). You'll love the Makeup Remover Cleansing Oil if you use long-wearing makeup. Next, opt for the Niacinamide Mattifying Cleansing Gel to absorb excess oil and dirt and leave the skin feeling perfectly clean and purified.
Love from, Lois & Team Revolution x