Glycolic Acid; as sweet an ingredient as the sugarcane it's made from or a scary ingredient for hardcore skincare users? We think it's the former. Read on to see why…
What is Glycolic Acid?
Glycolic acid has the smallest molecular weight of all the alpha-hydroxy acids (AHAs). It can be naturally derived, usually from sugarcane, or synthetically produced - both are molecularly the same.
What does it do?
Glycolic Acid, like all other AHAs has a keratolytic effect on the skin. This means that it breaks down the corneal desmosomes (bridges) between keratinised (hardened) outer layers of the skin so that they can be exfoliated away. This removes the dead and dull outer layers of the skin, revealing the smoother and brighter skin underneath- epidermal turnover is increased.

It can help with reducing the appearance of age spots and hyperpigmentation, improves skin hydration and reduces the appearance of fine lines. Overall, skin should be left smoother, with the complexion more even and bright.
What skin types is Glycolic Acid good for?
Glycolic Acid is great for all skin types, particularly dull and dehydrated skin as it helps to brighten and hydrate. It can help with blemish and oily prone skin by helping to exfoliate skin, which may help with easing congestion and preventing breakouts. It can help remove flaky patches of dry skin but should be used in conjunction with effective emollients to help restore the lipid barrier and prevent the skin from becoming dry and flaky again.

Sensitive skin types should patch test before use as Glycolic Acid has the smallest molecular weight, it is the best AHA for penetrating into the skin hence why it is such a potent ingredient. However, this potency can cause some irritation in sensitive skin types, and so they should build use up slowly or look to use AHAs with a larger molecular weight such as Lactic or Mandelic Acid.
Can Glycolic Acid cause purging?
Some products may make you initially break out when you first start using them. This is known as skin purging.

Skin purging is different from a normal breakout. It happens when you use a product that contains ingredients that increase cell turnover and exfoliate the skin such as AHAs and retinol. This increase in cell turnover accelerates the 'breakout' process and brings microcomedones (blocked) pores to the surface, that were not previously visible. This is the skin purging the trapped skin cells and sebum that were already there, that just had not turned into a blemish yet, not 'creating' new ones. Once the initial purging stage has happened and your skin has cycled with the new increased cell turnover, you should find that your skin looks much clearer than before. This should take between 4-8 weeks. If your skin is not getting better after this amount of time, it is perhaps best to stop using it.
How can I incorporate Glycolic Acid into my routine?
As mentioned, Glycolic Acid is a potent ingredient and so should be incorporated slowly into your routine, increasing concentrations and frequency of use as the skin builds up a tolerance. Start with our 2.5% Glycolic Acid tonic, a couple of times a week, gradually increasing frequency of use. Once tolerance has built up, you can move onto higher strength products, but also reduce frequency of use again when using higher strengths.

is very important to note that using AHAs increases the skin's photosensitivity and so SPF should always be worn after use and it should preferably be used at night.
What is Glycolic Acid compatible with and what time of day should I use it?
Glycolic Acid can react with other ingredients due to its low pH. It can break down Vitamin C and Niacinamide into compounds that are not as beneficial to the skin. Instead, use Vitamin C or Niacinamide in the mornings and Glycolic Acid in the evenings or wait at least one hour between applying products.

It should not be used at the same time as Retinol as it may overwhelm your skin and cause redness, dryness, and peeling. Instead, if you want to incorporate both into your routine (as both should ideally be used in the evenings) alternate use between the two actives on different nights or swap weekly.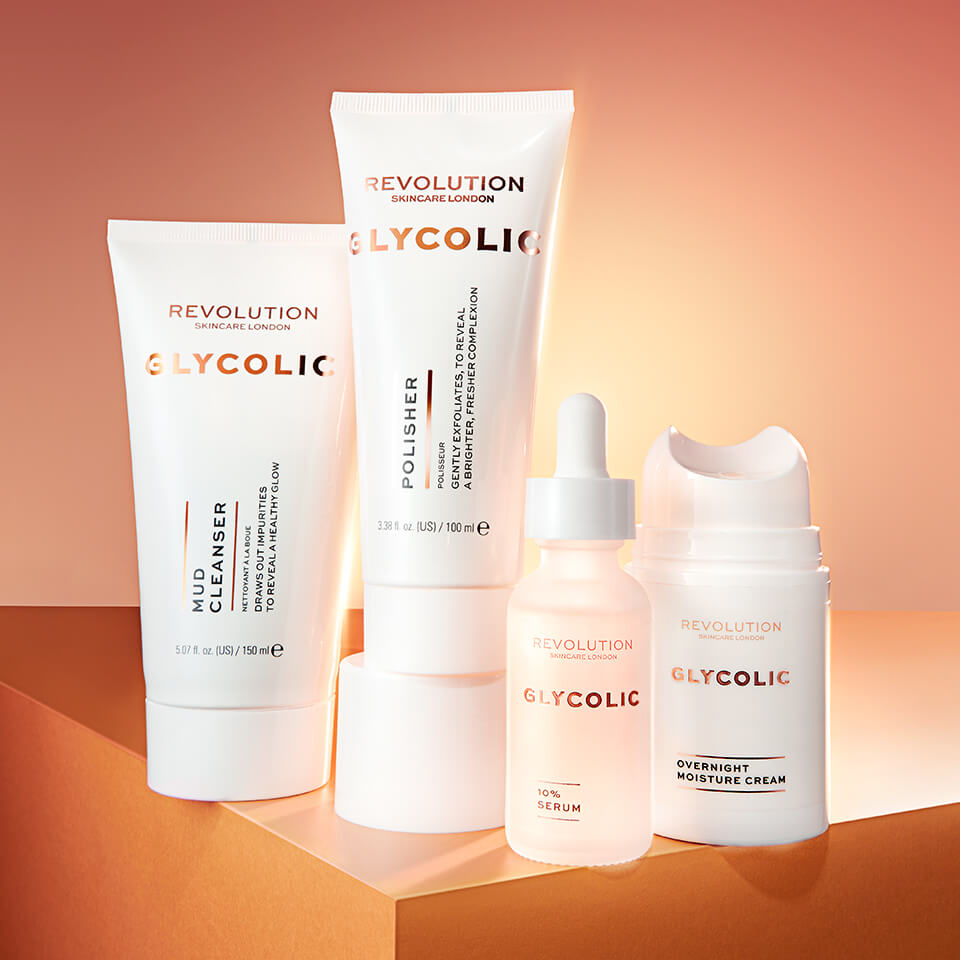 What's in the Revolution Glycolic Acid range?
Glycolic Toner
our Glycolic Tonics in 2.5% and 5% strengths are a great way to introduce Glycolic Acid into your routine to start to build your tolerance
SHOP NOW

Glycolic Acid Glow Mud Cleanser
This active yet gentle mud cleanser is enriched with Glycolic Acid to help gently exfoliate and reveal a healthy glow. With Kaolin (an oil-absorbing soft clay that helps to draw out impurities from pores) and Panthenol (deeply moisturising for soft and supple skin)
SHOP NOW

Glycolic Acid Glow Polisher
This glow-giving treatment is designed to use 2-3 times a week to help refine, brighten, and renew dull complexions. Hydrated Silica Particles (microplastic free, of course) help to gently buff skin and remove dead, dull, and flaky patches without causing irritation or tearing.
SHOP NOW

10% Glycolic Acid Serum
Made for Glycolic fans, this high strength serum helps encourage smoother skin texture and a glowing complexion.
SHOP NOW

Glycolic Acid Glow Overnight Cream
This overnight cream is formulated with 7% Glycolic Acid to help encourage smoother skin texture and a more radiant complexion. We've also added Squalane to leave skin feeling soft and supple (without feeling heavy or greasy) and Allantoin to comfort and soothe dry or irritated skin. Over time, skin tone appears more even.
SHOP NOW

Charlie from Team Revolution x
back to blog