It's 7:25, the kids have had their third bicker, the washing is on, and every question I ask my youngest is met with "no". So, it's all going great.
I sip my decaffeinated coffee (doctors orders), and like He-man, I call for the masters of the universe, or in my case, energy, motivation and creativity. Once the brood is fed and changed, it leaves me with approximately 36 seconds to get ready, or at least it feels.
My routine goes as follows; wake up, brush my teeth and follow with skin prep. Then all that's left is to apply whatever makeup time can afford and to brush my hair, or maybe not.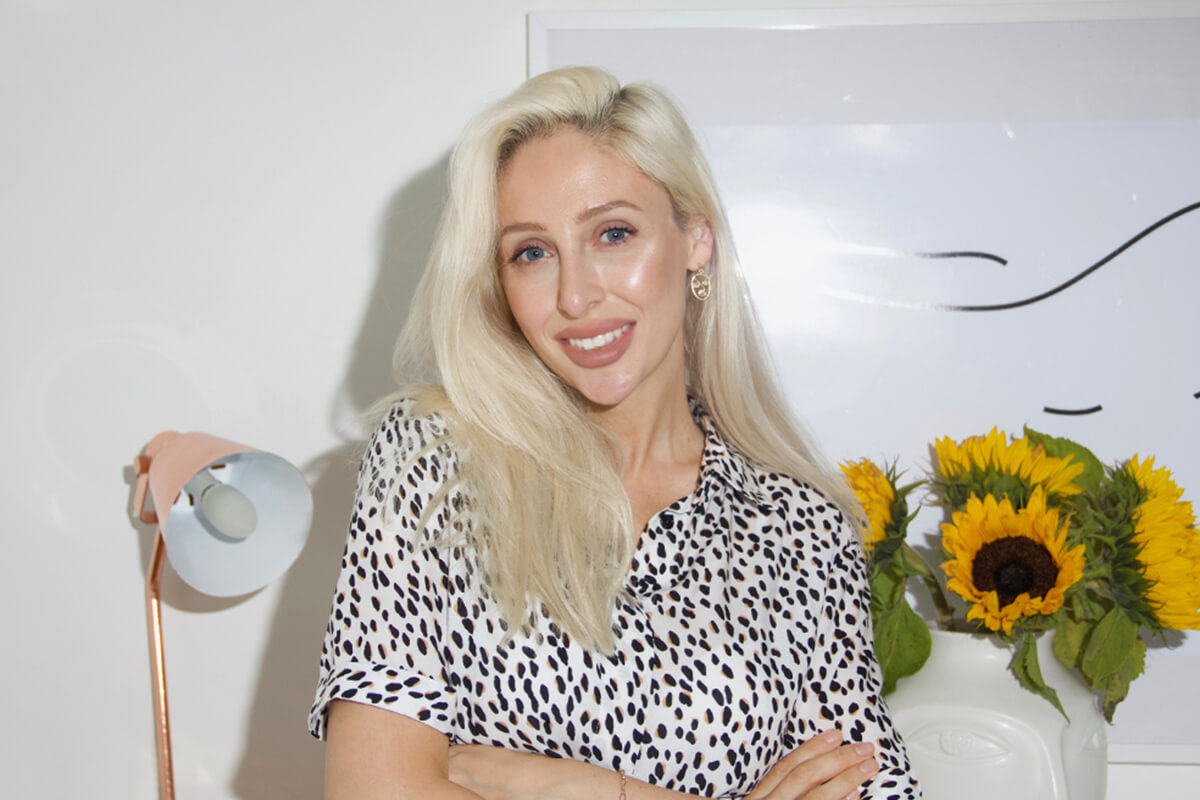 I'm quite easy-going on the maquillage front, I'm happy to mix it up when it comes to eyes and lips, but I always need a fresh base. For the days I don't apply a lightweight foundation I'll mix in some highlighting liquid with my moisturiser for a real skin pick-me-up.
It instantly makes skin look more youthful and radiant, something I think looks gorgeous on everyone. I mean it's not magic, but it can take skin from dusty and tired to the healthy, quick.
Next is brows. They're a must for me. I've always looked brow-less; obviously, I was aware that my blonde, barely-there hairs made my forehead look more prolonged, but at school, a kid exasperated my complex when he said: "where're your eyebrows?". "The same place as your sense of humour" - is what I wish I had replied.
So daily is the grind of making my eyebrows look thicker and darker; I've found the best products for me are the mechanical pencils that you don't need to sharpen. Revolution PRO Define & fill Micro Brow Pencil in Ash Brown is the perfect shade, and the packaging is quite weighty - which helps with the application. It's better than most other brands, even the well-known brand in the US, but I shall say no more.
I follow up with the Brow Volume and Sculpt Gel in Ash Brow, this gives the hairs a more feathery appearance as well as adding colour and texture - which I think is essential if you use a pencil or powder.
After brows I'll do eyes, this is where I mentally spin the wheel to see which look I'll choose. My usual is a natural lid with eyeliner, but if I have my two-year-old performing flips on my bed, I'll give that a miss. I value my eyeballs too much.
At the moment I quite like the look of a soft-focus mono shadow on the lids with mascara, my go-to is a brown from the Night and Day palette applied with my fingertips. It means you don't have to fuss about with finding clean brushes. Pat it on, soften the crease and boom!
If I feel like I want to jazz it up a little, I press a little shimmer over the lid or in the centre, and it changes the look entirely. Once a little mascara is applied, the eyes are complete.
Next, I'll apply a little Revolution PRO Ultimate Coverage Crease Proof Concealer in concealer under the eyes; what I use depends on the severity of the situation. I might only need light coverage and to brighten the area, in which case I'll use the highlighting concealer pen in the shade ivory, it's perfect for quick touch-ups or if you want to lift certain areas of the face like the corners of the mouth, for example.
For my pigmentation or if I need to disguise the evident lack of sleep, I'll go in with my favourite item so far.
The Ultimate Coverage Crease Proof Concealer in C6 is of the same quality as a camouflage cream; its opaque, dense consistency means it covers very well and sticks to the skin. Because of the texture, it's best not to blend unless you're mixing it with another product. I find pinpoint concealing is best, so only apply to the area that needs it specifically and tap over with your finger to help it settle into the skin but also soften the edges.
My tip would be to use a shade with pink or peach tones on the inner corner of eyes to cancel blue or purple hues and then opt for your base shade if you're concealing scars, blemishes or pigmentation on the face. Trust me. This product is gold!
If you need to set your base or mattify any oily areas, I'd highly recommend the Translucent Hydra Matte Setting Powder. It leaves a soft veil on the skin without zapping out all its moisture content. It's very finely milled and feels hydrating. I apply with a brush or puff, and my skin never looks flat, it's even replaced my previous compact powder. Sure, it's a tad more fiddly, but the finish is infinitely better.
Lastly is lips; for some reason, they begin to fade near the edges making my lips look smaller. It's no biggie though, one swipe of Revolution PRO New Neutral Satin Matte Lipstick in shade Stripped, and they're back. Sometimes I'll pat the lipstick on for a gently diffused look. This technique is a good one if you can't be bothered /don't have time to reapply during the day.
It's low maintenance makeup!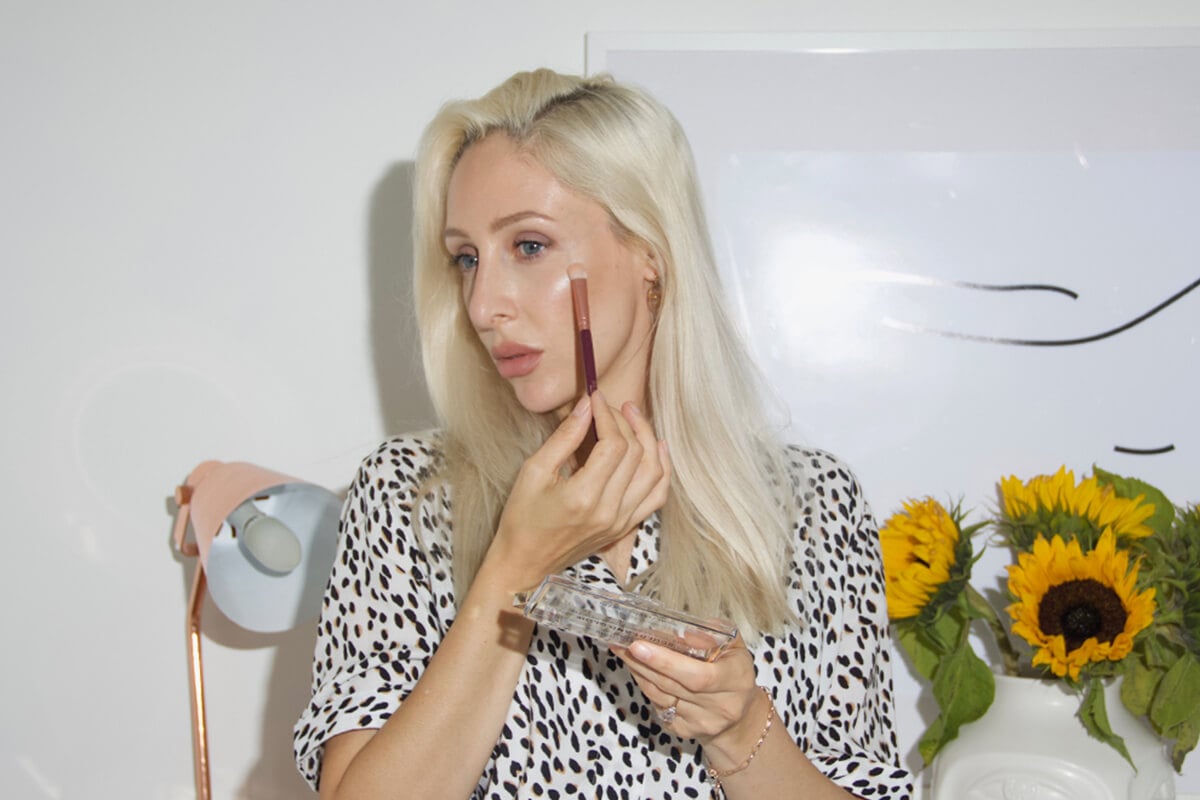 As I don't always apply foundation, I might have a little extra time. If I do, I'll warm up my complexion with a bronzer and buff a little highlight on the cheeks - it takes seconds but makes a difference.
The duo I have been enjoying is the Sculpt and Glow Palette in the shade Desert Sky. These powders are buttery soft like the eyeshadows and sit beautifully on the skin. This product stays in my bag at all times.
You often hear the question "hair or makeup" in terms of pick one you would spend the time on. Mine is makeup every time; then I'll either throw the hair into a top knot or spritz a bit of texturising spray into the ends and pretend I'm going for a cool, Kate Moss bed head look.
At least that's my excuse!
back to blog