Introducing a fresh and exciting brand; ReLove by Revolution. Every. Single. Thing. For Everybody.
SHOP NOW

Every product from ReLove is available for £5 or under… that's right, you read correctly! You can create a full face including foundation, setting powder all the way to those finishing touches like lip gloss and eyeliner.​
We're challenging you to create a full face of makeup for less than £35! Add up your total full face look and share it in the caption of your post on TikTok using the hashtags #FullFaceFor35 #ReLove @relove.by.revolution
Filled with Cruelty-free & vegan​, affordable​, accessible, relatable​ beauty products for everyone​. I know you're super excited to dive into this range so let's get straight into it…
If you want to take a closer look at the range to see swatching and textures, just click on the below video to be taken over to our YouTube channel to explore the full collection!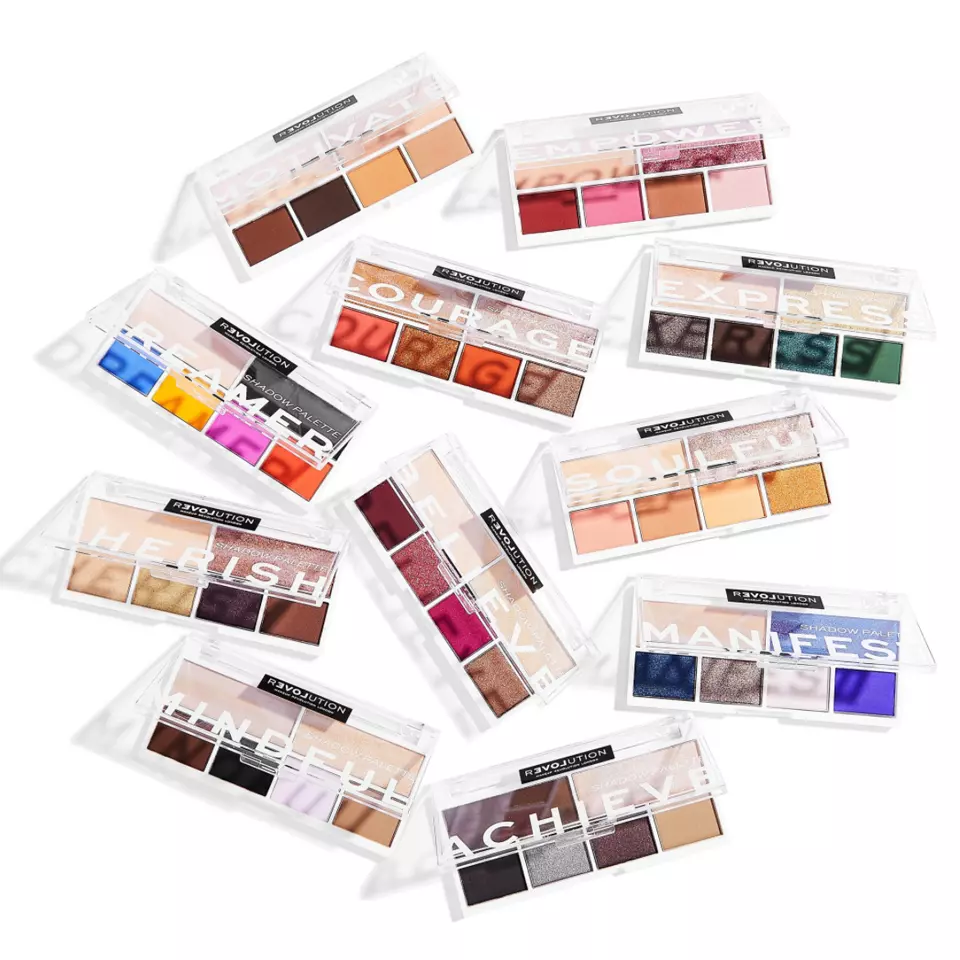 Relove Colour Play Eyeshadow Palettes - £3
Build your perfect eyeshadow collection without spending a fortune. The Relove Colour Play Shadow Palette includes 12 beautiful eyeshadow palettes packed with pigment for an intense colour pay off every time… and we mention their only £3 each!!
Relove Colour Play Blushed Palettes - £3
​Your new go-to dreamy duo! A blush & highlighter duo available in 6 shades with a smooth and creamy formula.
Relove Colour Play Contour - £3
Create shade, blush & highlight all in one super affordable palette! Sculpt and define with this 3-step contour palette available in 3 shades.
Relove Glossy Fix Clear Brow Gel & Mascara - £3
Keep your lashes looking healthy and your brows on point with the Relove Glossy Fix Clear Brow Gel & Mascara.
Relove Power Lash Volume Mascara - £3
Give your lashes mega volume with the Relove Power Lash Volume Mascara. An ultra-pigmented black mascara that lifts your lashes for a high-volume finish!
Relove Power Brow Pencil - £2.50
Relove Blade Brow - £2.50
Relove Colour Cult Brow Palettes - £3
Whether you like em' thick, defined or on point, our amazing brow range has got you!
Available in a range of shades from Brown to Granite.
Relove Baby Gloss - £3
Just when you thought glossin' couldn't get any cuter! The Relove Baby Gloss collection includes 8 cute and compact on-the-go glosses for that lush glossy lip finish.
Relove Glam Balm - £3
Give your lips some re-love with the Relove Glam Balm collection. Cute and collectable balms infused with the fruit of their matching scent. Available in 5 fun and fruity scents.
Relove Super HD Setting Powder - £3
We're holdin' it down for you! Remove shine and mattify with the Relove Super HD Setting Powder.
Relove Super Highlight - £3
​Find an outer glow to match your inner glow with the Relove Super Highlight collection. Available in 8 dazzling shades.
Relove Super Serum Foundation - £5
​Create a silky, breathable base with the Relove Super Serum Foundation. In 15 skin-true shades. Infused with hyaluronic acid to keep your skin hydrated. Ultra light, stretchable, blendable and super affordable!
Relove Kohl Eyeliner - £2
Line it up with the Relove Kohl Eyeliner range. 3 super pigmented kohl eyeliners with a creamy formula for a smooth, simple and precise application.
Relove Dip Eyeliner - £2.50
A super affordable eyeliner with high pigment impact to help you create your dream cat eye or graphic liner look. With a large pen-like handle for simple and controlled application. Available in 2 finishes.
Relove Slick Flick Eyeliner Black - £3
Create your dream flick with the Relove Slick Flick Eyeliner. An ultra-black formula eyeliner with a pen-shaped body for pigmented, simple and controlled application every time!
Relove Blender Bestie - £5
The Relove Blender Bestie is the perfect blending tool for smooth and seamless application.
AND it's shaped like a heart!
Relove Primers - £4
Start strong with the Relove Primer range. Whether you're looking for a hydrating formula or a super-matte finish, we've got you covered with this cute & collectable range.
Love, Shahira from Team Revolution x
back to blog