Long gone are the days it was socially acceptable to admit you remove your makeup with a disposable face wipe. But in a world full of micellar waters, cleansing oils, balms, foams, jellies, milks, double-cleansing and questionable-looking electronic devices, it's never felt more complicated to wash your face. So here's our no-nonsense guide on how to pick the best face wash for your skin concern.
Step 1: Removing your makeup
The first step to getting squeaky clean skin is to remove your makeup. It can be tempting to just use a cleanser for this step, however using a product specifically formulated to break down and wash away makeup, rather than cleanse the skin, will make all the difference.
EYE MAKEUP REMOVER – A soft and gentle cream formulated with Peach Kernel Oil and Cucumber Extract to soothe and hydrate the delicate skin around the eyes.
LIP COLOUR REMOVER – A rich balm to help to break down even the toughest of lip colours
MAKEUP REMOVER SPRAY – An easy to use spray that dissolves makeup with ease
Step 2: Cleanse
Next up - cleanser! This step helps to remove dirt, residue, and trace amounts of makeup from the skin. We have a choice of 5 amazing cleansers to make sure every skin type is catered to. Here's our no-nonsense guide: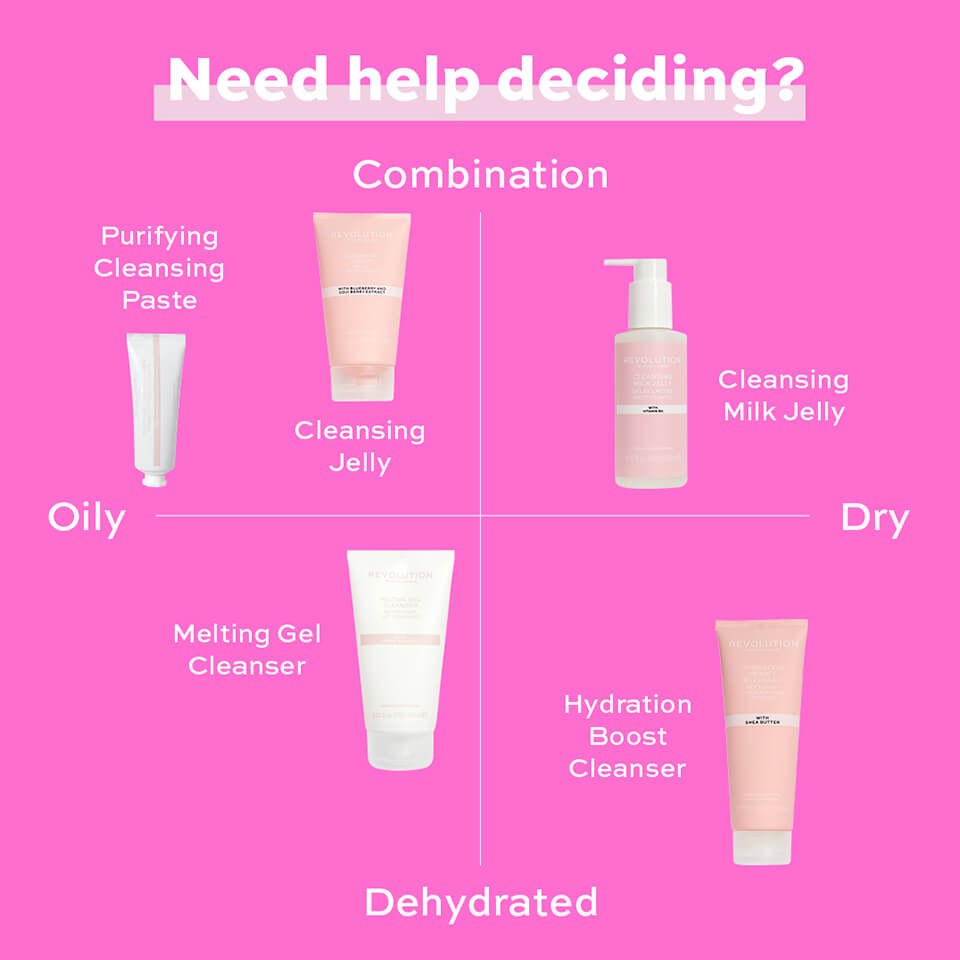 Best face wash for combination-oily skin:
CLEANSING JELLY – This soft berry scented clear jelly cleanser contains a Surfactant blend to help leave skin feeling clean and fresh, removing traces of dirt and makeup. Formulated with Glycerin to help the skin stay hydrated and prevent moisture loss, and Blueberry Extract, Acai Berry Extract, Goji Berry Extract, and Elderberry Extract to help condition the skin.
Best facial cleanser for dry & dehydrated skin:
HYDRATION BOOST CLEANSER – This soft, creamy cleanser is perfect for people with dry skin. Shea Butter and Sunflower Seed Oil helps to nourish and comfort skin whilst a blend of surfactants lifts and removes dirt without leaving the skin feeling dry or tight. Glycerin, Sodium PCA and Sodium Hyaluronate help to draw moisture into the skin to keep it hydrated.
Best cleanser for dry skin:
CLEANSING MILK JELLY – A smooth and light milky jelly that gently cleanses skin without leaving it feeling dry or tight. Formulated with Glycerin to help keep the skin hydrated and to prevent moisture loss, Panthenol to help keep the skin soft, and Allantoin to help soothe and reduce redness.
Best face wash for oily dehydrated skin:
MELTING GEL CLEANSER – This luxurious cleanser melts from a gel to oil to milk to easily rinse away oils and residue leaving skin feeling soft, clean, and smooth. Formulated with Grape Seed Oil and Sunflower Oil to help break down oily residue on the skin, including makeup.
Step 3: Double cleanse
And repeat! Whilst your first cleanse removes residue and oil, the second cleanse lets those hard-working ingredients work their magic on your skin, and creates the perfect base for the rest of your skincare routine.


Charlie from Team Revolution x
back to blog