Whether you are spending Galantine's with your closest friends or celebrating with a partner, give your skin some TLC with Revolution Super Base Vitamin Primer. Enriched with skin-nourishing vitamins including Vitamin B, C and E, Shea Butter and Hyaluronic Acid, this primer works throughout the day to hydrate your skin.
For a soft love flush on the cheeks, Revolution Blush & Highlight Stick in Flushing Pink is the perfect easy to blend formula! If your heart lusts for a multi-use product to effortlessly tie your makeup look together, Revolution Balm Glow is your dream match. It is the ultimate multi-use balm to glaze your cheeks, eyes, and lips.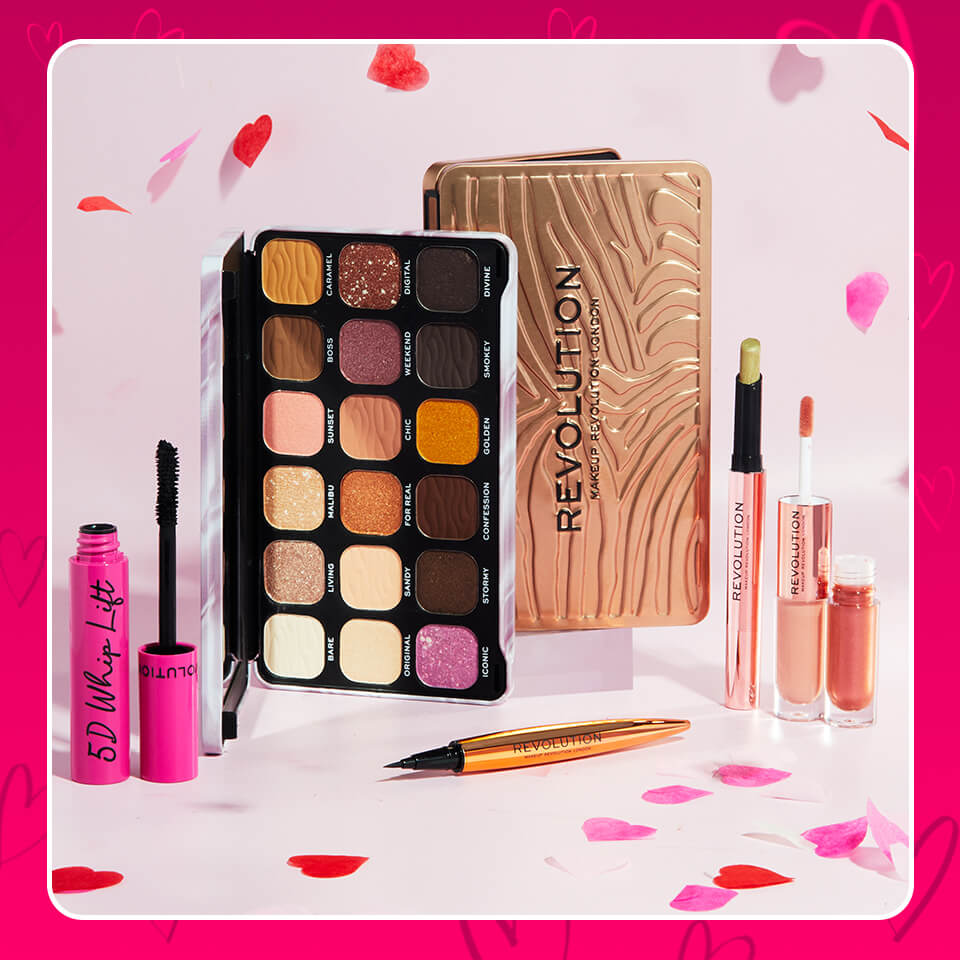 Looking for a gift to make your loved one's eyes twinkle? Check out Revolution's amazing range of eyeshadow palettes, eyeliners, and mascaras.
When shopping for a natural soft glam lover, Revolution Forever Flawless Palettes provide intense pigmentation to match all date night plans, from a romantic walk to a special meal and cocktails.
For that extra sparkle, Revolution Lustre Wand Shadow Sticks and Revolution Double Up Liquid Shadows are the head turning additions to any Valentine's Day makeup look.
Gift soft nourished lips with Revolution Glaze Lip Oil, infused with hyaluronic acid, vitamin E, jojoba oil, shea oil and cherry seed oil for a sweet cherry scent!
For the two-step perfect pout, Revolution IRL Filter Finish Lip Liner and Revolution IRL Whipped Lip Crème are the dreamy duo with a crème formula and unbeatable staying power.
Provide the gift of luxury (or to yourself, we won't tell) without breaking the bank and choose from a range of designer inspired Revolution perfumes. Housed in a glamourous bottle, there is a fragrance to match your every mood and your special plans this Valentine's Day; ranging from feminine day time fragrances to spicy and seductive scents.
It is important to note that Valentine's Day is a day to share love with those close to you, but also to remember to show yourself some love too. Don't forget about the most important person in your life and plan some time for you and what you love to do the most.
Shop the Revolution Beauty Valentine's Day Gift Guide here.