Introducing Planet Revolution: a clean evolution beauty brand offering an affordable choice for beauty lovers who are looking for clean formulations and conscious packaging. From the world's first recyclable palette to multi-use products that are kind to your skin and the planet, here's everything you need to know about our newest brand.
SHOP PLANET REVOLUTION
What is Planet Revolution?
Planet Revolution is a skin and make up hybrid collection. Every product has an essential use in your makeup routine, each designed to be multi-use to get more out of what you are buying. Packed with colour and industry-leading innovation, this collection will allow you to look amazing whilst helping to protect the Earth. Products have been clearly labelled with icons to denote the packaging, ingredient and recycling stories, to help make your journey into clean beauty a breeze!
DISCOVER MORE
How Does Planet Revolution Fit In?
The research and development of Planet Revolution's products and process has been fundamental to our company-wide process, giving invaluable insight into ways we can improve as a business. By working this way, we have already made significant changes to our other brands. One of our first major initiatives was reducing plastic consumption by over 50 tonnes in our 2020 Gift collection. That's equal to roughly 3 million plastic water bottles. In early 2021, we switched our Fixing Spray bottles (over one million of them) to 100% recycled plastic. It's our constant focus to lessen our impact on the Planet. We will always strive to do more #progressnotperfection.
What is 'Clean' Beauty?
Well, 'clean beauty' can mean something different for every beauty brand. But for us, it's a crucial part of Planet Revolution's evolving philosophy. Our 'Clean Evolution Beauty' promise guarantees;
Meet the Planet Revolution Heroes…


The Revolutionary Palettes
The Planet Revolution collection boasts the world's first recyclable shadow palette (yes, you heard that right!). Manufactured from Fibreform™, which is made from wood pulp, the material has the feel of plastic but can be composted or biodegraded after use. Simply click-out the keepsake mirror and dispose of the Fibreform™ and FSC™ card packaging in your recycling bin or home composter. The creamy mattes, silky shimmers and soft foils formula of the shadows are clean, vegan and pack an astonishing punch. Only essential ingredients are used.
SHOP NOW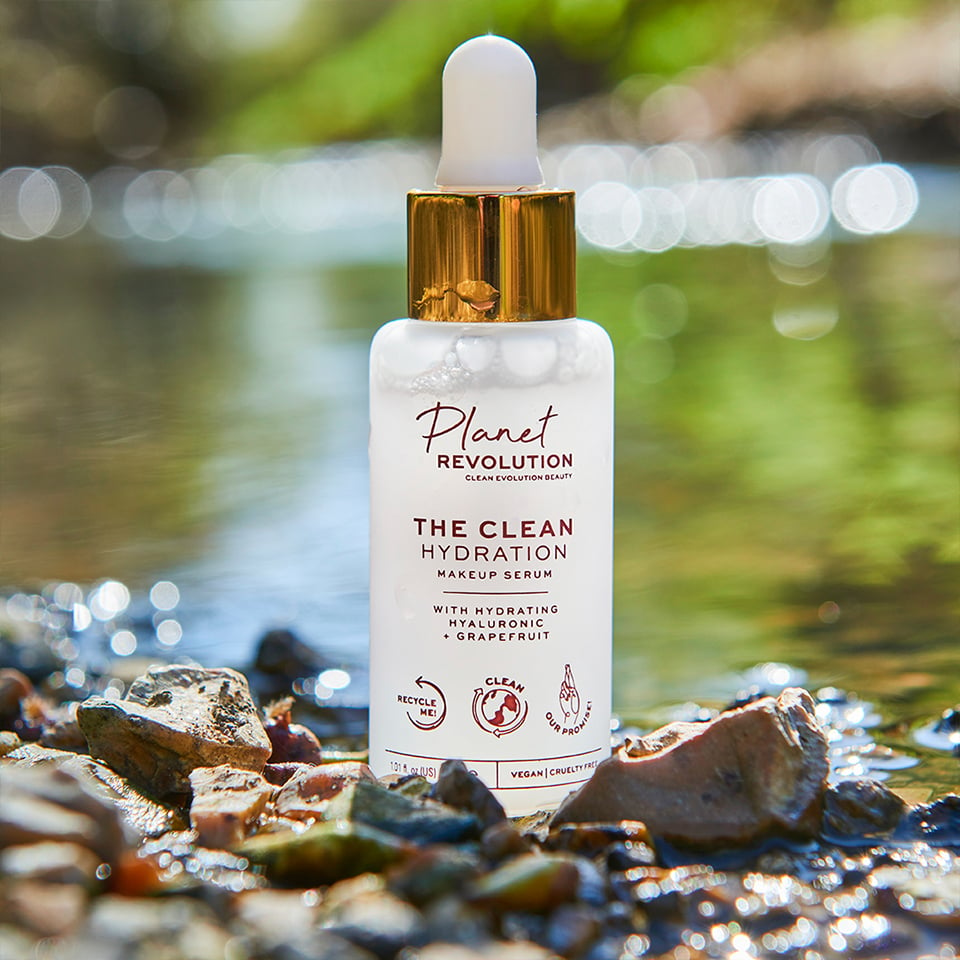 The Clean Hydration Serum
The perfect hybrid between skincare and makeup, this clean hydration serum is formulated with hyaluronic acid and grapefruit to leave your skin feeling refreshed and hydrated whilst creating a perfect base for makeup. Skin is left with a gorgeous sheen, making this serum perfect for those no makeup days! Plus, it's not just the formula that's kind to the planet: the bottle is made of glass, meaning once empty it can be recycled.
SHOP NOW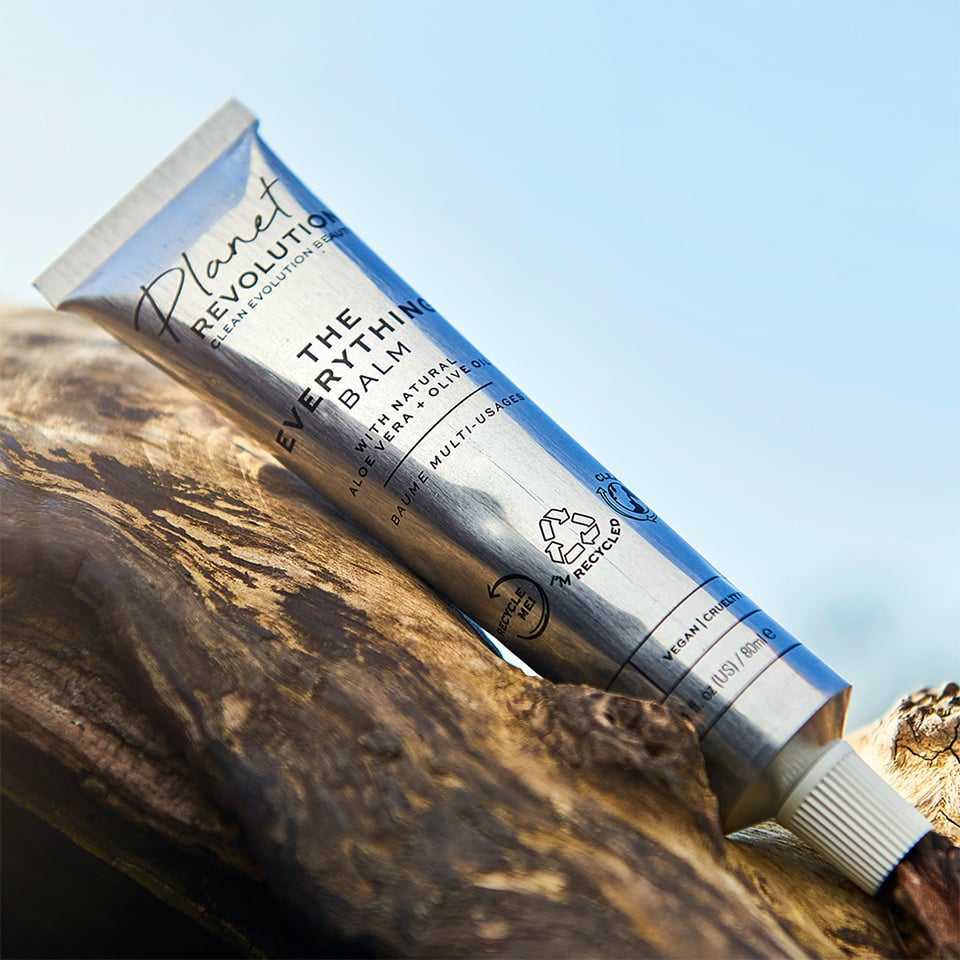 The Everything Balm
This multi-use, clean-formula hydrating balm can be used on the face, body, hair, and cuticles! It is an all-over hydrator that will nourish and heal dry areas all whilst smelling amazing. This product has been formulated with natural aloe vera and olive oil to give skin or hair an extra boost of hydration. The PCR cap and aluminium tube means that you can put this in the recycling bin once it's all been used. Top tip: when running low, be sure to cut the product open to ensure you get every last bit!
SHOP NOW
What is sustainable sugar cane?
Some of our plastic is created from sugarcane, rather than fossil fuels, which makes it much more sustainable. Our sugarcane is responsibly sourced from arable land in Brazil, well away from the rainforests. What's more, for every kg of sugarcane bioplastic produced, 3.09 kgs of carbon dioxide is removed from the air - it is carbon negative! Even better news is that bioplastic has the same ability to be recycled as "normal" plastics.​
What is compostable Fibreform?​
Fibreform™ is manufactured from wood pulp which is crushed down to have the feel of plastic. This means that the material can serve as a plastic substitute, it looks like plastic, feels like plastic but is not plastic. The Fibreform™ can be biodegradable or compostable after a period of time and is much more sustainable than plastic as it breaks down after use in a natural, quick and easy way - meaning less plastic waste on our Earth!​
Want to know more about PCR? ​
PCR stands for Post Consumer Regrind. When you recycle your plastic products they are ground down into pellets and used again to make new packaging. This removes waste from landfill, uses less energy and uses fewer of the earth's resources. Sometimes this can even be mixed with new plastic. The higher the PCR content, the more chance there is that packaging can be cloudy looking or slightly grey. We've embraced this in Planet Revolution, building it into our design - we feel it's worth it! PCR plastic can be recycled, but not over and over again forever, so it is important that some new plastic is also introduced into products to keep the cycle going.
SHOP PLANET REVOLUTION
Join the clean beauty evolution - head over to @planetrevolution_ to learn more.
Lois from Team Revolution x